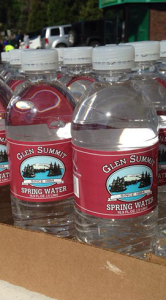 Halloween is just a mere 10 days away (we know, we can hardly believe it either)! Droves of children will either be walking up and down our neighborhood streets, or attending one of the trending Trunk-or-Treats, dressed as ghouls, goblins and the like.
Unless you plan on leaving town or hunkering down with the lights off, it's probably time to think what you're going to hand out to your trick-or-treaters.
Typically, kids get piles of sugary candy and sweets for Halloween. While some healthier alternatives have popped up more recently, why not hand out our Glen Summit Bottled Spring Water – if for nothing else than to wash down all of the other stuff.
Parents may thank you.
You can click here for delivery information.
Dare to go against the grain this Halloween.