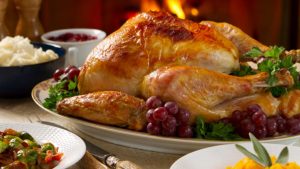 Thanksgiving is right around the corner, and we are excited as we possibly can be.  From turkey, to football, to family, and to thankfulness, what is there not to love?  However, in the midst of all of these benefits, we hope that you are ready for the big day, and not just in terms of cooking and cleaning.  Staying hydrated throughout the holiday could possibly be your best weapon against the stress, and help you enjoy the day that much better.
We all know that hydration has the ability to help you destress, but it also has the ability to keep you focused, which is especially important in the kitchen.  Thanksgiving is one of the leading causes for house fires in November, and most of them are caused by a negligence in the kitchen or with the turkey fryer.  Do yourself to stay hydrated, and therefore keep your home safe.
Thinking of eating a lot of food Thursday (as we are)?  Then staying hydrated will be your best friend, as it will help you digest everything, and will keep you from getting nauseous.  Not only that, but it will also keep the alcohol from adversely affecting you, as it dilutes the amount.  One glass of water per standard drink will do wonders to keep you going strong, while enjoying the day and the company.
So this Thanksgiving, we hope that you enjoy all what the day has to offer, while choosing a glass of water to go along side of it.  Trust us, you'll thank us later.
From all of us a Glen Summit Spring Water, we wish you and your family a happy and healthy Thanksgiving!