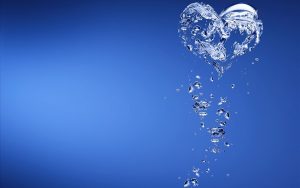 Happy Valentine's Day to all you Glen Summit Spring Water fans out there!  We hope your day is going well, and that you are spending time with the one whom you call your Valentine.  However, even if you find yourself lacking a special one today, know that you can always call water your partner.  Read on to learn why you should be loving water today and all year round!
Water is not only a key to survival, but also to proper health.  By ensuring that you are properly hydrated, you are ensuring that you are less tired, respond to stressful situations much better, and overall, just feel good.  Now, love can do a lot, but water comes up to a close second.
Like love, water is hard to separate yourself from it for a long time.  You start to feel bogged down, groggy, cranky, and all the other negative adjectives out there.  Luckily enough, the one quick fix is to drink a bottle of nice cool water, which will perk you right up in no time.
Unlike love, however, good water is relatively easy to find—just call up us at Glen Summit Spring Water for a refreshing case of water coming right out of the natural springs in eastern Pennsylvania.  We bottle our water at the source, right after nature filters it, so you can be sure that when you drink our water, you are drinking the freshest water out there.
Give us a call today to place your order!
Have an absolutely wonderful Valentine's Day!