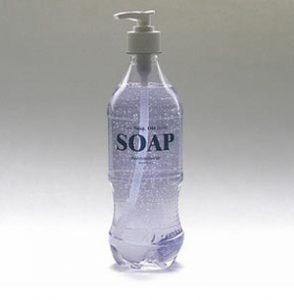 At Glen Summit Spring Water, we take recycling very seriously, as we know of the environmental stress our bottles can pose if discarded improperly.  However, just throwing bottles into the recycling can may get a little boring, so we have a few ideas on how to repurpose our bottles for simple household use.
One of the easiest ways you can reuse a bottle is as a soap dispenser.  All you need to do is pour your soap into the empty bottle, grab a twist-on pump, and set it out for all to see.  Now, you have a cheap, economical, and environmentally conscious dispenser, sporting our famous Glen Summit Spring Water logo.  It is the perfect addition to any sink!
Not only can you use an old water bottle inside the home, but you can also use it outside as an easy bird feeder.  Just punch a few holes in the bottle, slide a stick through it to provide a perch for the bird, and fill the bottle with seed.  Hang it somewhere in your yard, and watch all the winged creatures flock in the numbers to your new feeder!
Using old water bottles in and out of the home is great, but did you know that you can also use it to send messages to others?  Literally.  Bottles make fantastic "envelopes" and equate a handwritten letter to an actual message in a bottle.  You can also take advantage of the size of the bottle to send other things, like pens, pencils, or anything else that will fit into the dimensions of our bottle.  Just be sure to include a stamp on the outside!
The sky is the limit when imagining how to reuse one of our bottles, and we encourage you to come up with other ways to put a new spin on an old bottle.  We'd thank you for it, and we're sure nature would thank you as well.
No matter what you do with your bottle, just be sure to recycle!