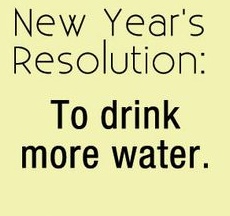 Hi there all of your fine Glen Summit fans.
We can hardly believe the turn to 2016 is just a few days away!
Have you made your New Year's resolutions yet? We know there are always the old standbys of losing weight, exercising more, or perhaps you're finally going to kick that smoking habit.
We have a resolution, however, that can actually help you achieve those aforementioned goals…why not resolve to drink more water?
Water is the essential nutrient to help you maintain a healthy weight – as well as serving to hydrate as you exercise.
The benefits of drinking more water are plentiful. These including assisting you in flushing out toxins and staving off hunger and headaches.
As you can imagine, we're huge fans of water here, and we hope you join us in that thought.
Resolve to drink more water in 2016!
You'll absolutely be better for it.
Happy New Year from the Glen Summit Spring Water family!