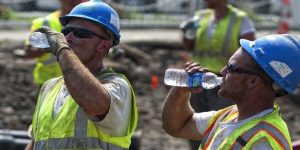 Working on the job can be hard, but working on the job in the heat can be excruciating.  New Jersey summers are generally very hot and humid, which is a recipe for exacerbating dehydration.  For a person managing a group of people in the heat, dehydration can be a difficult foe to tackle.
If you are the project manager or foreman on the job, consider purchasing one of our water dispensary units to keep your crew healthy and happy.  It will keep your workers cooled and hydrated, which is bound to lead to higher productivity.  Not only that, but once you have the unit, we can deliver jugs of water to your job site on a basis that fits your schedule, as little or as often as you need it.
A dehydrated person is a person who will have a hard time preforming even the simplest of tasks.  Combat the dehydration in the best way possible, with water from Glen Summit Spring Water.
To order your supply, give us a call today!