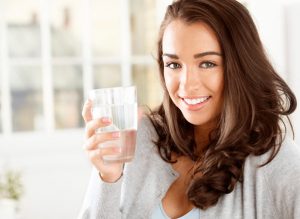 Sure, we all know that water is good for anyone, but did you know that it is especially good for college students?  Whether you're the student or the parent of one, taking these tips with you to campus might just be able to save a grade, and keep you a much healthier person in the long run.  Here's how drinking water in college can save you big time.
For college students, water has been linked to a more positive mood.  Dehydration can spawn contempt towards roommates and professors, and can even impact concentration.  Staying hydrated will keep your mood–and your grades, the best they can be.
Not only that, but drinking water can also increase the energy that a college student has.  In a world filled with readily-available caffeine, using water instead of coffee can be a great substitute, and give you the energy to cram out that paper or finish that study session.
Also, we cannot end this article without saying that an increased water intake will help when dealing with a hangover.  Drinking water in combination with alcoholic beverages can dilute its effects come the morning, and hydration in extremely important when dealing with the symptoms of a standard hangover.
Hydrating in college is much, much easier than you think, and can come with extensive health benefits.  So, we here at Glen Summit Spring Water encourage you to keep hydrated this semester, and beyond.