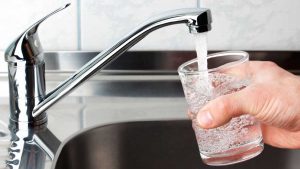 Last week, national headlines were blowing up with an incident that occurred with the tap water in Corps Christi, Texas.  Well, if you have heard about this before, or if you are just hearing about it now, read on to find out everything you need to know about the incident!
Officials noticed on Wednesday of last week the appearance of a chemical in the tap water of the city, contamination the water for over 300,000 people.  Indulin AA-86, a chemical commonly used in asphalt, leaked into the water supply after an incident in the city's industrial district.  It was reported that 3-24 gallons of the chemical infiltrated the water supply, rendering it unusable for many of the residents.  Officials stated that boiling the water would not make it safe, as the chemical could not be removed that easily.  Instead, the city supplied residents with bottled water to keep the residents hydrated in the interim.
However, since that time, the city has lifted restrictions on tap water entirely, ending the 5 day ban.  Residents may go back to using the water for bathing, washing, cooking, and drinking.
Here is yet another instance that highlights the potential drawbacks of tap water, and the benefits of bottled water.  Unlike tap water, bottled water is bottled directly at the spring, without the interference of treatments or chemicals.
Its fresh, pure, all-natural water, all the time, every time.  No questions about it.
To order your case of fresh spring water for the holidays, give us a call today!